Davide Cabassi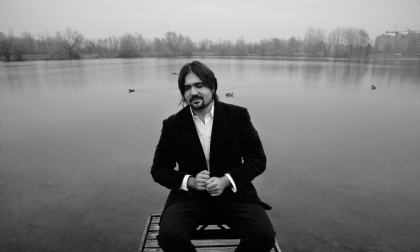 Born in Milan in 1976, the Italian pianist Davide Cabassi studied with Edda Ponti at Milan's Giuseppe Verdi Conservatory, and at the International Piano Foundation in Cadenabbia, Italy, taking master classes with Leon Fleisher, Rosalyn Turek and William Grant naboré.

He made his orchestral debut with Sostakovitch's Second Piano Concerto at the age of thirteen with the RAI Symphony Orchestra under Vladimir Delman. He has also collaborated with the Munich Philharmonic, the Neue Philharmonie Westfalen, and the Russian Chamber Philharmonic, as well as with several American and Italian orchestras, working with such conductors as Gustav Kuhn, James Conlon, and Asher Fisch, among others.

In recital, Cabassi has played throughout Italy, as well as in Austria, Germany, Switzerland, France, Portugal, Poland, Finland, Russia, USA, China, and Japan, highlighted by appearances in Salzburg's Mozarteum, the Gasteig in Munich, Rachmaninoff Hall in Moscow, Roque d'Anthéron, the Louvre Paris, and Tiroler Festspiele.

Being a finalist, he was featured prominently in the film documentary about the Twelfth Van Cliburn Piano Competition, "In the Heart of Music". In 2008 the Italian channel Classica dedicated a special in their series "Note-Voli" to him. For his Sony-BMG debut CD, "Dancing with the Orchestra", Davide Cabassi won the Italian Critics Award for the best debut recording of the season. In 2010 he made his debut at the Teatro alla Scala with Mozart's piano concerto K 488.

He is a member of the faculty of the Monteverdi Conservatory in Bolzano and Artist in Residence at the col legno festival in Lucca and at the Tiroler Festspiele Erl.

www.davidecabassi.net



A new lieder cycle for baritone, prepared piano and electronics – with Georg Nigl and Wolfgang Mitterer himself passionately operating his keys and computer controls.


Une Soirée Vian (1991): on the borderline between opera, oratorio and cabaret Denys Bouliane investigates the heritage of the French writer Boris Vian.


Markus Hinterhäuser shows us a terrific interpretation of the piano sonatas from the russian composer. Massive music!