Morton Feldman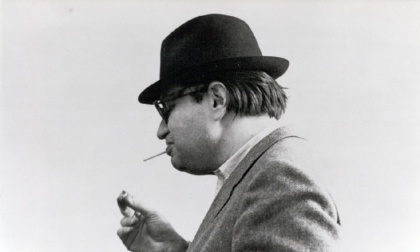 Morton Feldman was born in New York in 1926 and died there in 1987. Just like Cage, a close friend, he was an American composer – an American artist – an American in the true sense of the word.

He identified himself by differentiating his views on composition from those of his colleagues in Europe. He was proud to be an American because he was convinced that it enabled him the freedom, unparalleled in Europe, to work unfettered by tradition. And, he was an American also in what may have been a slight inferiority complex in the face of cultural traditions in Europe, something he proudly rejected and secretly admired.

Like any true artist, Feldman was endowed with a sensitivity for impressions of a wide variety of sources, literature and painting in particular. His affinity to Samuel Beckett has enriched music literature by a unique music theatre piece, Neither, and two ensemble works. His friendship with abstract impressionist painters gave birth to a range of masterpieces, Rothko Chapel in particular. But even the knotting of oriental rugs gave Feldman musical ideas (The Turfan Fragments).

With encouragement from Cage, who he met in the early 1950s, Feldman began to write pieces that had no relation to compositional systems of the past, such as the constraints of traditional harmony or the serial technique. He experimented with non-standard systems of musical notation, often using grids in his scores, and specifying how many notes should be played at a certain time, but not which ones.

In 1973 Feldman became professor at the University at Buffalo. Later, he began to produce his very long works, often in one continuous movement, rarely shorter than half an hour in length and often much longer. These works include Violin and String Quartet (1985, around 2 hours), For Philip Guston (1984, around four hours) and, most extreme, the String Quartet II (1983, which is over six hours long without a break.) Typically, these pieces maintain a very slow developmental pace (if not static) and tend to be made up of mostly very quiet sounds. Feldman said himself that quiet sounds had begun to be the only ones that interested him.

Chris Villar's Feldman Website, one of the best sources.



Compositions such as Piano and Orchestra (1975) or Feldman's final work for piano, Palais de Mari (1986), are assembled on this CD.


An opera? An anti-opera? A monodrama? Whatever it may be: Neither (1977) marks the meeting of the kindred artistic souls of Samuel Beckett and Morton Feldman.


Music and carpets? Well, the latter's slightly irregular patterns certainly inspired Morton Feldman to write his Crippled Symmetry (1983).


The sound as the center of being: grown from silence, Feldman reaches the bounds of comprehensibility in Triadic Memories.


Patrick Pulsinger assembles a quartet to embark on a musical reflection on Morton Feldman at the WIEN MODERN festival. A perfect col legno production!