FRANUI Musikbanda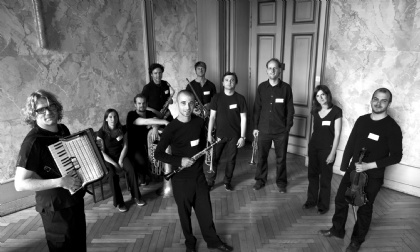 Franui is the name of a mountain pasture in the small Austrian (East Tyrolean) village of Innervillgraten, 1,402 meters above sea level, where most of the Franui musicians grew up.

The Musicbanda of the same name, who have been playing together in nearly the same line-up since 1993, produce an immediately recognizable sound (due to the special blend of woodwind and brass, bowed and other string instruments).

Franui are regularly invited to perform at major festivals and venues (e.g. Wiener Festwochen/Konzerthaus Wien, Burgtheater, Wiener Staatsoper, Mozarteum Salzburg, Tiroler Festspiele Erl, Philharmonie Luxembourg, Kunstfest Pélerinages Weimar, Schauspielhaus Hamburg). For the 2005 Ruhrtriennale in Duisburg Franui produced the song-play "Steine und Herzen" (Stones and Hearts) in collaboration with director and actor Sven-Eric Bechtolf. The music and image theater project "wo du nicht bist" (where you are not) was realized in collaboration with the Berlin theater group "Nico and the Navigators" for the 2006 Bregenzer Festspiele and was also performed in Berlin, Munich, Parma and Mulhouse.
In 2008 the Bregenzer Festspiele hosted the premiere of Franui's program "Nur ein Gesicht" (Only One Face), a musical reflection on Johannes Brahms' Deutsche Volkslieder. In the course of 2009, on the occasion of the 250th anniversary of the death of G. F. Händel, Franui's pasticcio opera "Anaesthesia" was performed in several European cities, e.g. at the Händelfest-spiele in Halle/Saale, the Grand Théâtre de Luxembourg, the KunstFestSpiele Herrenhausen/Hannover, the Radialsystem in Berlin and the Bregenzer Festspiele(again in collaboration with "Nico and the Navigators").

In June 2010 the "Mahlerlieder" premiered at the Ludwigsburger Schlossfestspiele.

The CD »Mahlerlieder« was released in April 2011 and completes the Musicabanda's lied-trilogy started in 2007 with »Schubertlieder« and continued a year later with
»Brahms Volkslieder«.

www.franui.at

Photo: Reiner Pfisterer


Read about Franui at the Gramophone Blog!


Line up
Johannes Eder, clarinet, bass clarinet
Andreas Fuetsch, tuba
Romed Hopfgartner, alto saxophone, clarinet
Markus Kraler, contrabass, accordion
Angelika Rainer, harp, zither, vocals
Bettina Rainer, dulcimer, vocals
Markus Rainer, trumpet, vocals
Andreas Schett, trumpet, vocals
Martin Senfter, valve trombone, vocals
Nikolai Tunkowitsch, violin

"Music to make your knees weaken!" (Berliner Zeitung)

"Competently performed, with fine arrangements and virtuoso playing, yet still – luckily – not overly clear." (Die Zeit)

"Always thought of, but never heared in this way."
(Frankfurter Allgemeine Zeitung)


Dance music from high-alpine regions and from the low plains, music located somewhere between Schubert, Bartok and a Young Farmers'Ball in East Tyrol.


The Mahlerlieder album concludes Musicbanda Franui's inspiring trilogy about the art of the Lied in the 19th century.


This album about boredom takes the Musicbanda Franui, accompanied by actor Peter Simonischek, away from their daily routine, back to the days of their childhood, and straight on to the graveyard.


In celebration of their 20th anniversary, Franui released this Vinyl-LP in 2013 containing pearls from their early years as well as few of their current hits. Truly recommended!


Guess who's back with a brand new record in order to celebrate their 25th anniversary! Right, Franui again: "Is it going to last?"


Schubert–Brahms–Mahler: Franui's magical lieder triangle has now finally been assembled in a box.


The music of the successful production at the Burgtheater Vienna on CD! (Karsten Riedel & Franui = Songwriting at its finest.)