Neue Vocalsolisten Stuttgart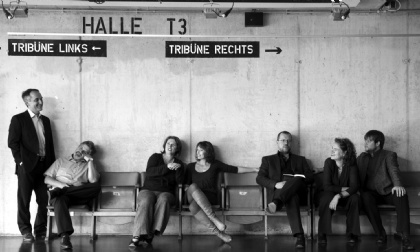 They are researchers, discoverers, adventurers and idealists. Their partners are specialist ensembles and radio orchestras, opera houses and the free theater scene, electronic studios and countless organizers of contemporary music festivals and concert series in the world.

The Neue Vocalsolisten established as an ensemble specializing in the interpretation of contemporary vocal music in 1984. Founded under the artistic management of Musik der Jahrhunderte, the vocal chamber ensemble has been artistically independent since the year 2000. Each of the seven concert and opera soloists, with a collective range reaching from coloratura soprano over countertenor to "basso profondo", shapes the work on chamber music and the co-operation with the composers and other interpreters through his/her distinguished artistic creativity.

According to the musical requirements a pool of specialist singers complements the basic team. The ensemble's chief interest lies on research: exploring new sounds, new vocal techniques and new forms of articulation, whereby great emphasis is placed on establishing a dialogue with composers. Each year, the ensemble premiers about twenty new works. Central to the group's artistic concept are the areas of music theater and the interdisciplinary work with electronics, video, visual arts and literature, as well as the juxtaposition of contrasting elements found in ancient and contemporary music.

www.neuevocalsolisten.de

Photo: Martin Sigmund


... the suggestion of a whole life with all its twists and turns of fate.


»12 Madrigali« explored the finely structured landscapes of sound on the »continent Sciarrino« at the Salzburg Festival 2008. A sensational original release!


Quando stanno morendo (1982) and other Vocal works Neue Vocalsolisten Stuttgart re-release, finally available again!