ORF Radio Symphony Orchestra Vienna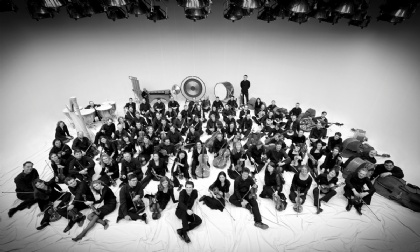 The ORF Radio Symphony Orchestra Vienna was founded in 1969 as the successor to the Große Orchester des Österreichischen Rundfunks and has meanwhile become firmly established as one of Austria's most versatile orchestras. Under the direction of its principal conductors Milan Horvat, Leif Segerstam, Lothar Zagrosek, Pinchas Steinberg, Dennis russell Davies and Bertrand de Billy the orchestra's repertoire has been continuously expanded and now encompasses works ranging from the pre-classical to the avant-garde. its programs also regularly include rarely performed or unjustly forgotten works. A main focus of RSO Vienna is to provide material for the ORF (the Austrian Broadcasting Corporation), and it is also present internationally in renowned radio stations abroad.

The orchestra is frequently invited to major Austrian and international festivals, and has established particularly close ties with the Salzburg Festival, Wiener Festwochen, musikprotokoll im steirischen herbst and Wien Modern. Thanks to the successful collaboration with the Theater an der Wien since 2007 RSO Vienna has also made a name for itself as an opera orchestra.

Extensive concert tours have taken the orchestra e. g. to Japan, China, the USA, South America and all over Europe. over the years RSO Vienna has performed with many distinguished guest conductors, including Leonard Bernstein, Ernest Bour, Christoph von Dohnányi, Michael Gielen, Peter Eötvös, Andris Nelsons, Kirill Petrenko, Giuseppe Sinopoli, Hans Swarowsky, Ingo Metzmacher and Simone Young.

The orchestra's extensive recording activities for the ORF and CD productions encompass all genres and also include many world premiere recordings of works from the classic Austrian modern repertoire and of Austrian contemporary composers.

In 2010 Cornelius Meister was appointed principal conductor of RSO Vienna.

RSO Vienna website



On »Kontinent Varèse« col legno has assembled seven major works of a pioneer of electronic music, performed e.g. by the Ensemble Modern Orchestra, the RSO Vienna and Martin Grubinger!


Part two of col legno's WIEN MODERN Edition is dedicated to Luciano Berio: Chemins I and IIb, Concerto and Formazioni, recorded live at WIEN MODERN Festival 2007.


The exceptional violinist Patricia Kopatchinskaja not only impresses audiences and critics – she also inspires eminent composers like Kühr, Resch & Zykan.