SCENATET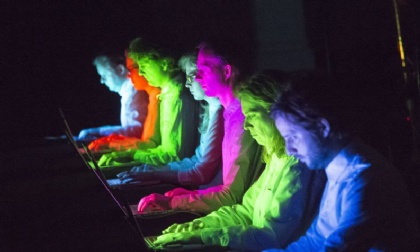 © Axel Schutt



SCENATET were founded by artistic director Anna Berit Asp Christensen in 2008 and move in a cross-genre field of music, drama and happenings towards areas of as yet undefined genres. The ensemble aim to create conceptual art works of high quality in which music is part of a larger whole. They engage in many different types of productions, from theatrical and artistically unique projects to more classic productions, including many new works and formats realised in close collaboration with composers, directors, artists, filmmakers as well as festivals and art spaces. A number of SCENATET's projects and collaborations have been developed into CD recordings and film footage – most recently the music and art video Angel View Movie, based on composer Juliana Hodkinson's theatrical concert Angel View, and produced in collaboration with film director Michael Madsen.

SCENATET consist of twelve musicians as permanent members and are recognized as one of the most innovative and experimental ensembles for music and art in Europe. They work with the younger generation of composers of the Danish and international avantgarde scene and have performed compositions by e.g. Peter Ablinger, George Aperghis, Joanna Bailie, Kaj Duncan David, Jagoda Szmytka, Christian Winther Christensen, Juliana Hodkinson, Simon Løffler, Jessie Marino, Sarah Nemtsov, Marianthi Papalexandri-Alexandri, Niels Rønsholdt, Francois Sarhan, Salvatore Sciarrino, Simon Steen-Andersen, Bent Sørensen, Manos Tsangaris, or Jennifer Walshe.

SCENATET are highly visible on the international art scene and have toured the cultural hubs of Europe, the United States and Asia, performing premieres at established venues and renowned concert halls. They also perform specially designed concerts in unexpected yet familiar surroundings, such as parks, libraries, backyards and private homes, to establish a more direct contact with their audience. They have been invited to play at a number of renowned festivals, such as Ultima (NO), Transit Festival (BE), Huddersfield Contemporary Music Festival (UK), Klang Festival (DK), Borealis (NO), November Musik (NL), Shanghai New Music Week (CHN), SPOR festival (DK), MATA Festival (US), Maerz Musik (DE), Bergen Festspillene (NO), and Warsaw Autumn (PL).




In 2018 SCENATET started off the year performing at two of the most cutting-edge concert series for new experimental music in Europe, Kammer Klang in London and Kontraklang in Berlin, inter alia premiering Christian Winther Christensen's piece

Freunde

. In June, the ensemble presented Salvatore Sciarrino's Aspern Suite (1979) at the Copenhagen Avantgarde Festival Klang, before embarking on an extensive tour with Jessie Marino's new composition,

Nice Guys Win Twice

. This 50-minute concert piece featuring ten performers, live electronic audio and video was premiered at the renowned Internationale Ferienkurse für Neue Musik in Darmstadt, followed by performances at Transit Festival (BE), Gong Tomorrow (DK), Huddersfield Contemporary Music Festival (UK), and Borealis (NO).

From 2012 to 2014, SCENATET represented Denmark in the prestigious EU project NEW: AUD – New Music: New Audiences, developing new concert formats for contemporary classical music. SCENATET receive a multiannual grant from the Danish Arts Foundation and are supported by several other leading Danish foundations.

www.scenatet.dk


The 2nd audio book from the artist released with col legno, read by Wolfram Berger and with music from our treasure chamber – audio entertainment beyond compare.


Oscillating between jazz, classic and new music, two exceptional projects by Swiss composer Daniel Schnyder are presented on this col legno CD.


Gnomic Variations: conciseness from the inside of a piano. Processional is driven by an incessant pulse, whereas Ancient Voices is based on poems by Garcia Lorca.