Galina Ustvolskaya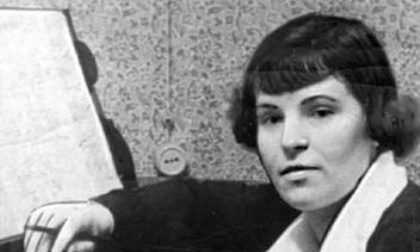 The Russian composer Galina Ustvolskaya was born in Petrograd on 17 June 1919, studied at the college attached to the Leningrad Conservatory and at the Rimsky-Korsakov Conservatory itself where she subsequently taught composition.

Her composition teacher Dmitri Shostakovich, who seldom praised his students, said of her: 'I am convinced that the music of G. I. Ustvolskaya will achieve worldwide renown, to be valued by all who perceive truth in music to be of paramount importance.' On several occasions Shostakovich supported her in the Union of Soviet Composers against opposition from his colleagues. He sent some of his own as yet unfinished works to Ustvolskaya. The intimate spiritual and artistic relationship between the two composers resembles that of Schoenberg and Webern.

The music of Galina Ustvolskaya is not 'avantgarde' in the commonly accepted sense of the word and for this reason was not openly censured in the USSR. However, she was accused of being unwilling to communicate and of 'narrowness' and 'obstinacy'. The composer Boris Tishchenko has aptly compared the 'narrowness' of her style with the concentrated light of a laser beam that is able to pierce through metal.

Her specific idealism is informed by an almost fanatical determination; this should be construed notonly as a typically Russian trait, but also – in terms of Dostoyevsky – as a 'St. Petersburgian' one.Ustvolskaya was evidently the only one of Shostakovich's pupils able to attain to the second cosmicvelocity needed to escape from the gravitational field of a 'massive planet' such as Shostakovich.

All of Ustvolskaya's works are large-scaled, in intent, no metter how long they are or how manyplayers are involved. "My music is never chamber music, not even in the case of a solo sonata." As a rule Galina Ustvolskaya writes ascetic music, and the notation eschews the use of barlines.

In Galina Ustvolskaya's music we search in vain for traits that are commonly regarded as 'feminine'.
Some of her compositions have religious connotations; this manifests itself in titels or sungliturgical locutions. Their message reveals a severe and independent spirit and an inexorable will – avoice from the 'Black Hole' of Leningrad, the epicentre of communist terror, the city that sufferedso terribly the horrors of war.

A heart attack caused Galina Ustvolskaya's death on December 22, 2006 in St. Petersburg, she was 87 years old.

Alongside Sofia Gubaidulina, Ustvolskaya is considered Russia's most significant woman composer.



From subtle irony to direct provocation: Satie, the complacent gentleman with a hat and goatee, meets the "pianist-futurist" Antheil.


"To experience all shades of the sonic landscape": Hosoka-wa combines Noh music, Tibetan Shomyo, and Far Eastern philosophy of sound into new sound experiences.


Russia's answer to the western-focused Postmodernism: the polystylist Schnittke on the track of western Baroque.