Journal Archive
col legno with 2 nominees!
Two nominees for ICMA Award 2014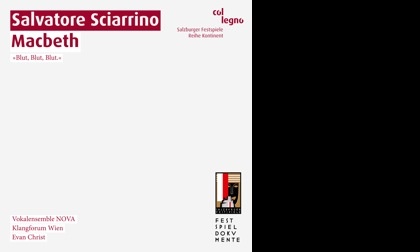 Sciarrino's interpretation of Macbeth was performed in 2011 at Salzburg Festival within the "Kontinent" concert series and was released as a festival audio document in 2012.

The Guardian says: "The elusive soundworld, often on the edge of audibility, is instantly recognisable as Sciarrino's, a wonderfully consistent and compellingly obsessive creation that retains the power to shock and surprise."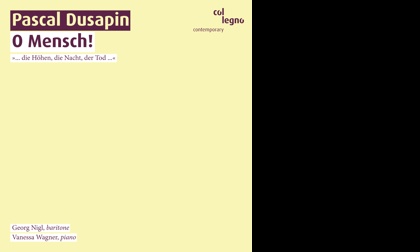 As a commission by the Ernst von Siemens Music Foundation, French composer Pascal Dusapin created a song cycle for his friend Georg Nigl, based on texts by Friedrich Nietzsche. The close collaboration of the two artists gave rise not just to a work for Georg Nigl's voice per se but rather for his singing corpus, for his voice upon the stage.

Wiener Zeitung writes:
"The composer uses a striking musical language, perfectly reflecting any emotion possible. Georg Nigls flexible baritone touches in all fibres of the incredible texts - also in the upper tenor range, the voice sounds comfortably native."

-> to the CD with infos and sound samples


Guess who's back: Alma are happy to show around again presenting their brand new and highly anticipated 3rd Longplayer Oeo! Summer 2017 is occupied from now on!


[...] contains pop music of stunning grandeur, and of moving simplicity. Sincerely recommended!


Milestones of electroacoustic music – from Varèse to Ferneyhough – investigated from a music-historical perspective and presented in contemporary 5.1 surround sound.


"The music they make is an acoustic gingerbread, lustily oral, closely linked to eating, drinking, kissing, breathing, living." (Franzobel)


Sferraina create an enchanting sound space, where music from past eras continually overlaps and interacts with the present. Highly recommended!


"Trio Catch are like a fresh new brand for the old lady New Music." () — Could there be a catchier way of phrasing it?