Journal Archive
new co-operation
Award Ceremony in Munich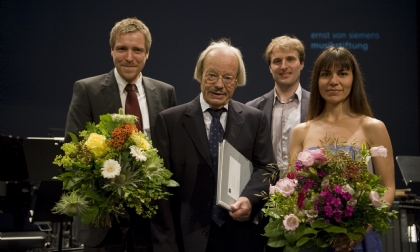 In addition to receiving financial support the winners of the Ernst von Siemens Music Foundation's Composers' Prize will in future also be supported with the production of their own portrait CD. For the realization of the series it has been
possible to enlist the Viennese label col legno who will also be in charge of world-wide distribution.

The CDs of the 2011 and 2012 prize winners – Luke Bedford, Steven Daverson, Zeynep Gedizlioglu, Hèctor Parra and Hans Thomalla – have been presented to the public at the award ceremony in Munich's Cuvilliés-Theater on 22 June 2012.

Steven Daverson Shadow Walker
Hèctor Parra Caressant l'Horizon
Hans Thomalla Fremd
Luke Bedford Wonderful Two-Headed Nightingale
Zeynep Gedizlioglu Kesik

Ulrich Alexander Kreppein's CD will be released later this year.




Hèctor Parra's working on a composition is comparable to the work of a sculptor; continually he carves out his oeuvre out of the musical material. Listen to the result here!


Steven Daverson's compositions allude to the
intangible: fluid forms that might be experienceable, but never enduring concrete...


Hans Thomalla's opera Fremd adapts one of hte great myths of Worldliterature: Medea; still challenging, still compelling.


Zeynep Gedzlioglu's music is an emphatic plea for the value of heterogeneous and individual difference.


Focussing and magnification, concentration and expansion – these [...] diametrically opposed dynamics [...] characteristically pervade Luke Bedford's music.