Journal Archive
col legno with 2 nominees!
Two nominees for ICMA Award 2014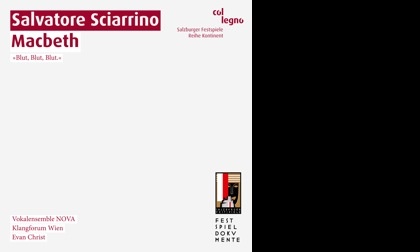 Sciarrino's interpretation of Macbeth was performed in 2011 at Salzburg Festival within the "Kontinent" concert series and was released as a festival audio document in 2012.

The Guardian says: "The elusive soundworld, often on the edge of audibility, is instantly recognisable as Sciarrino's, a wonderfully consistent and compellingly obsessive creation that retains the power to shock and surprise."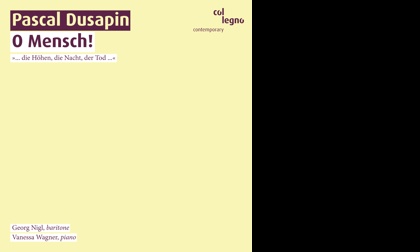 As a commission by the Ernst von Siemens Music Foundation, French composer Pascal Dusapin created a song cycle for his friend Georg Nigl, based on texts by Friedrich Nietzsche. The close collaboration of the two artists gave rise not just to a work for Georg Nigl's voice per se but rather for his singing corpus, for his voice upon the stage.

Wiener Zeitung writes:
"The composer uses a striking musical language, perfectly reflecting any emotion possible. Georg Nigls flexible baritone touches in all fibres of the incredible texts - also in the upper tenor range, the voice sounds comfortably native."

-> to the CD with infos and sound samples


Part II is near ... so stay tuned for more information to follow very soon!


This album about boredom takes the Musicbanda Franui, accompanied by actor Peter Simonischek, away from their daily routine, back to the days of their childhood, and straight on to the graveyard.


"A man is only fully a human being when he plays." (Friedrich Schiller)


"So it is a matter of distributing the signs on the paper and weighing them against each other to create a kind of dance." (Gerhard Amanshauser)


"Music expresses that which cannot be said and on which it is impossible to be silent." (Victor Hugo)


Knoedel are back – without umlaut, but with drums! And a very special mix between contemporary and traditional, exceptional and ordinary.