Journal Archive
col legno with 2 nominees!
Two nominees for ICMA Award 2014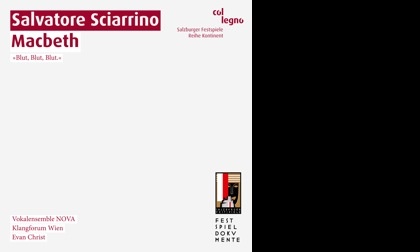 Sciarrino's interpretation of Macbeth was performed in 2011 at Salzburg Festival within the "Kontinent" concert series and was released as a festival audio document in 2012.

The Guardian says: "The elusive soundworld, often on the edge of audibility, is instantly recognisable as Sciarrino's, a wonderfully consistent and compellingly obsessive creation that retains the power to shock and surprise."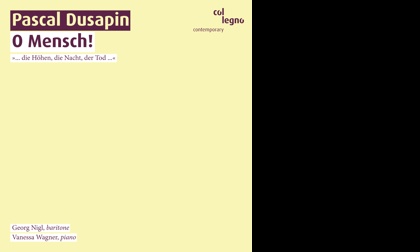 As a commission by the Ernst von Siemens Music Foundation, French composer Pascal Dusapin created a song cycle for his friend Georg Nigl, based on texts by Friedrich Nietzsche. The close collaboration of the two artists gave rise not just to a work for Georg Nigl's voice per se but rather for his singing corpus, for his voice upon the stage.

Wiener Zeitung writes:
"The composer uses a striking musical language, perfectly reflecting any emotion possible. Georg Nigls flexible baritone touches in all fibres of the incredible texts - also in the upper tenor range, the voice sounds comfortably native."

-> to the CD with infos and sound samples


Almost in G: an album composed by Christian Winther Christensen, performed by Scenatet and sincerely recommended by col legno!


"Bach is a complete cosmos for sceptics, Bach is the experience of in nity for mortals." (Armin Thurnher)


Trombonist & composer Martin Ptak presenting his brand new album River Tales hereby - considering nothing less than the endless stream of recurrence...


Federspiel are back, presenting their 5th longplayer called Wolperting ... "and a simple glance out of the window turns into a story which lasts a lifetime."


Wolfgang vs. Ludwig? Nine In One? Schicksal? Tristesse? All in one, the whole prgramme ... and yes, you really can listen to Beethoven!


Ketan Bhatti's solo debut Nodding Terms, also available as Ltd. Vinyl Edition - only while stocks last!