Journal Archive
col legno with 2 nominees!
Two nominees for ICMA Award 2014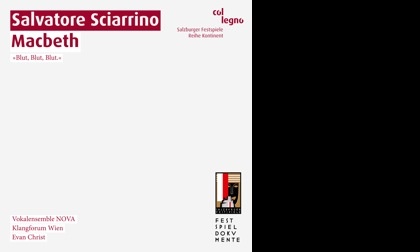 Sciarrino's interpretation of Macbeth was performed in 2011 at Salzburg Festival within the "Kontinent" concert series and was released as a festival audio document in 2012.

The Guardian says: "The elusive soundworld, often on the edge of audibility, is instantly recognisable as Sciarrino's, a wonderfully consistent and compellingly obsessive creation that retains the power to shock and surprise."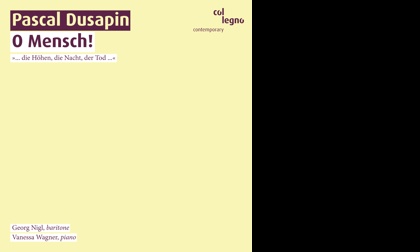 As a commission by the Ernst von Siemens Music Foundation, French composer Pascal Dusapin created a song cycle for his friend Georg Nigl, based on texts by Friedrich Nietzsche. The close collaboration of the two artists gave rise not just to a work for Georg Nigl's voice per se but rather for his singing corpus, for his voice upon the stage.

Wiener Zeitung writes:
"The composer uses a striking musical language, perfectly reflecting any emotion possible. Georg Nigls flexible baritone touches in all fibres of the incredible texts - also in the upper tenor range, the voice sounds comfortably native."

-> to the CD with infos and sound samples


Part II is near ... so stay tuned for more information to follow very soon!


Knoedel are back – without umlaut, but with drums! And a very special mix between contemporary and traditional, exceptional and ordinary.


Welf & Eiger. A place to marvel. A place to listen carefully.


"Achad" is to be understood as a result of a musically tracking of spiritualitiy and temporality - a quest on which the listener is invited, too.


Almost in G: an album composed by Christian Winther Christensen, performed by Scenatet and sincerely recommended by col legno!


"Bach is a complete cosmos for sceptics, Bach is the experience of in nity for mortals." (Armin Thurnher)