Journal Archive
col legno with 2 nominees!
Two nominees for ICMA Award 2014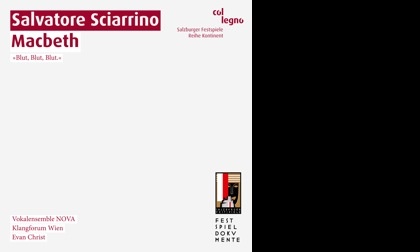 Sciarrino's interpretation of Macbeth was performed in 2011 at Salzburg Festival within the "Kontinent" concert series and was released as a festival audio document in 2012.

The Guardian says: "The elusive soundworld, often on the edge of audibility, is instantly recognisable as Sciarrino's, a wonderfully consistent and compellingly obsessive creation that retains the power to shock and surprise."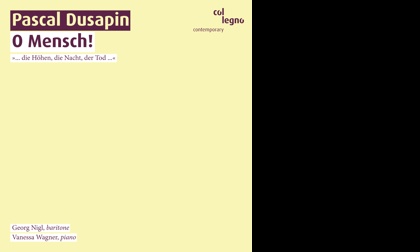 As a commission by the Ernst von Siemens Music Foundation, French composer Pascal Dusapin created a song cycle for his friend Georg Nigl, based on texts by Friedrich Nietzsche. The close collaboration of the two artists gave rise not just to a work for Georg Nigl's voice per se but rather for his singing corpus, for his voice upon the stage.

Wiener Zeitung writes:
"The composer uses a striking musical language, perfectly reflecting any emotion possible. Georg Nigls flexible baritone touches in all fibres of the incredible texts - also in the upper tenor range, the voice sounds comfortably native."

-> to the CD with infos and sound samples


This music is about fading away, about reverberations, echoes. European instruments sound Asian, and Asian instruments are integrated into European art music.


For me, composition is a game', says Kampe, 'using objects which – from a distance – don't seem to belong together.


It seems that Djordjević's imagination is focussed entirely on an interior world, on the interplay of forces within a de ned space.


[...] Hudry researches very early on, a form of vigorous interaction between the performer and the machine – an axis of his compositional output.


Even Hector Berlioz praised the sound of the, then newly invented, saxophone, likening it to the "mysterious vibrations of a bell, long a er it has been struck."


Lauermann presents his solo debut, and invites us to listen into the "the great spaces all around" – spaces of memory, chambers of sensation, places of yearning.