Journal Archive
col legno with 2 nominees!
Two nominees for ICMA Award 2014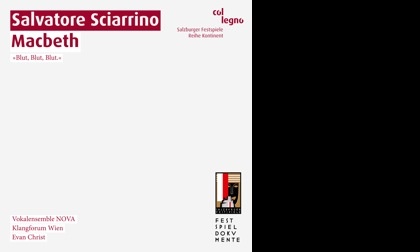 Sciarrino's interpretation of Macbeth was performed in 2011 at Salzburg Festival within the "Kontinent" concert series and was released as a festival audio document in 2012.

The Guardian says: "The elusive soundworld, often on the edge of audibility, is instantly recognisable as Sciarrino's, a wonderfully consistent and compellingly obsessive creation that retains the power to shock and surprise."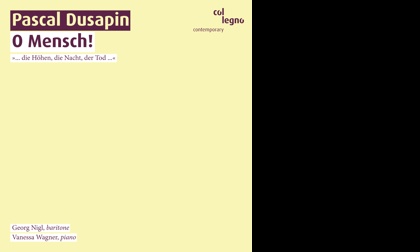 As a commission by the Ernst von Siemens Music Foundation, French composer Pascal Dusapin created a song cycle for his friend Georg Nigl, based on texts by Friedrich Nietzsche. The close collaboration of the two artists gave rise not just to a work for Georg Nigl's voice per se but rather for his singing corpus, for his voice upon the stage.

Wiener Zeitung writes:
"The composer uses a striking musical language, perfectly reflecting any emotion possible. Georg Nigls flexible baritone touches in all fibres of the incredible texts - also in the upper tenor range, the voice sounds comfortably native."

-> to the CD with infos and sound samples


Even Hector Berlioz praised the sound of the, then newly invented, saxophone, likening it to the "mysterious vibrations of a bell, long a er it has been struck."


Lauermann presents his solo debut, and invites us to listen into the "the great spaces all around" – spaces of memory, chambers of sensation, places of yearning.


Guess who's back: Alma are happy to show around again presenting their brand new and highly anticipated 3rd Longplayer Oeo! Summer 2017 is occupied from now on!


[...] contains pop music of stunning grandeur, and of moving simplicity. Sincerely recommended!


Milestones of electroacoustic music – from Varèse to Ferneyhough – investigated from a music-historical perspective and presented in contemporary 5.1 surround sound.


"The music they make is an acoustic gingerbread, lustily oral, closely linked to eating, drinking, kissing, breathing, living." (Franzobel)