About the album

The title of the latest album "Pattern & Decoration" by saxophonist Romed Hopfgartner may sound a little inconspicuous at first glance. What is meant, however, is the movement in the fine arts from the late 70s and 80s that dealt with pattern combinations and abstract ornamentation. The aim was to focus on those elements that were considered purely decorative in the West, as well as the associated handicraft techniques. It is similar with the music that can be heard on this album: Jazz, a genre that is often dismissed as a bit dusty or as "background music", is now celebrated here in all its forms, colors and possibilities. This is not about cerebral structures, but about beautiful lines between melodies and harmonies. Sometimes playful and driving, sometimes enjoyable and relaxed. In this way Romed Hopfgartner created a wonderful world full of color that gives jazz its special shine.

Lineup

Romed Hopfgartner, soprano & alto saxophone
Mahan Mirarab, e-guitar
Oliver Kent, piano
Dragan Trajkovski, bass
Wolfi Rainer, drums

Guest: Emily Stewart, vocals & text (track 5)

About the artist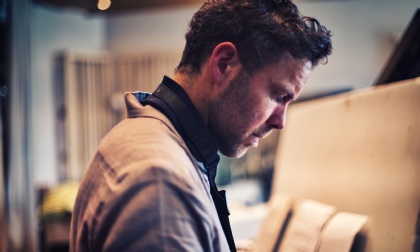 © flowingframes

Romed Hopfgartner

Romed Hopfgartner studied saxophone with Florian Bramböck at the Tyrolean State Conservatory and with Wolfgang Puschnig at the University of Music and Performing Arts in Vienna. As a musician, he has been active in numerous jazz bands, chamber music ensembles, big bands (Nouvelle Cuisine, Jazzorchestra Tyrol), orchestras and theaters at home and abroad - above all with the internationally successful Musicbanda Franui.
As a theater musician and composer, he was invited to some of the most renown concert halls in Europe. He also participated in numerous CD productions, three of them under his own name.
Since 2007 he has been teaching saxophone at the Mozarteum University in Innsbruck/Austria. He also received the jazz prize of the city of Innsbruck in 2016 and the renown German Record Critics' Award with the Musicbanda Franui in 2018.
1CD
Instrumental
Ensemble
III Edition
Jazz


Recommendation
"So it is a matter of distributing the signs on the paper and weighing them against each other to create a kind of dance." (Gerhard Amanshauser)


"Music expresses that which cannot be said and on which it is impossible to be silent." (Victor Hugo)