Editor's Note

The trumpeter, zither player and composer Simon Zöchbauer – known as one of the heads of the ensemble Federspiel, in demand throughout Europe - presents his first solo album. It is called "Achad", a Hebrew word meaning "one", but also in the broader sense "unity", "wholeness" or "oneness".

Achad – such a lovely title for a touching musical search for meaning and self, accompanied by the famous Koehne Quartett as well as producer and electronics technician Sixtus Preiss. The great questions of our origin, current condition and the greater whole are posed to us all as listeners. Or, to put it in the words of the poet Hans Magnus Enzensberger: this is about "the beginning and the end/and the couple of minutes in between."

And quite apart from that: a string quartet with trumpet sounds fantastic!

Lineup

Melissa Coleman, violoncello
Lena Fankhauser, viola
Anne Harvey-Nagl, Joanna Lewis, violin
Sixtus Preiss, electronics (tracks 03, 05, 07)
Simon Zöchbauer, compositions, trumpet, flugelhorn, zither

All tracks composed and produced by Simon Zöchbauer
Co-produced by Sixtus Preiss (track 03, 05, 07)
Tracks performed by Simon Zöchbauer & Koehne Quartett

First Listener's Note

Achad
By Laura Wösch

What well-springs feed acts of creation? Intuition? Experience? Where are creativity and inspiration located? Within or without?

Simon Zöchbauer brings existential questions into play with his debut solo album as a composer. As you listen, a mystical home gradually unfolds before your inner eye, opening up space for intimacy and spirituality.

Not for nothing is the album entitled "Achad" – a word of Hebrew origin expressing the concept of one, of unity or wholeness. Insight is often only unfurled in the unity of the moment, such as you may find in meditation or musical improvisation - an instant in which the relation between present, past and future is revealed.

So it is not surprising that, concerned with issues of identity and belonging in his musical past to date, Simon Zöchbauer set out firstly to search for his musical roots. During his many years of exploration of traditional forms of music, and the ensuing formation of the now internationally successful ensemble Federspiel, he laid the groundwork as trumpeter, zither player and composer for the spaces available to him today, which now open more to the future than to the past. In this, agreement and universality are more central to his work than concentration on what it stands for alone.

Simon Zöchbauer has now brought in the Koehne Quartett as his playing partners – a string quartet which count as one of Europe's leading ensembles in the field of contemporary music. Close cooperation with composers is of particular importance to the members of the ensemble to ensure they are able to penetrate into each individual tonal language. So, too, in the collaboration with Zöchbauer the musical power lies in the mutual understanding and the flexibility of the body of sound.

Second companion and co-producer of "Achad" is Sixtus Preiss – a tinkerer with sound who takes full advantage of the present as the experimentation field for his creative fantasy, tirelessly feeling his way towards its limits.

Zöchbauer's diverse musical influences are always subtly noticeable in "Achad", including sacred or contemporary music as well as echoes of folk music – but it is his individual and intuitive process of creation which is always to the fore. "Achad" can thus be understood as the result of a musical search for traces of spirituality and timeliness – a search on which we ourselves may now set off.


About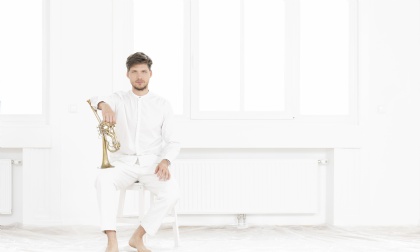 © Michèle Pauty

Simon Zöchbauer

As both composer and musician, Simon Zöchbauer is an enquiring spirit. Freethinking and playful, with the meticulousness of a scholar and the profundity of a philosopher he charts musical landscapes, burrows for roots and looks behind the facades which make up his everyday reality.

He discovered his passion for the trumpet at the age of nine, when a brass band marched past him in New Orleans and paved his way into music. Over time the musician, born in 1988 in Herzogenburg, was exposed to a range of musical styles.

He pursued a career as a professional musician after being awarded first prize with distinction in the nationwide Prima La Musica competition in 2003, which convinced him he had found an artistic form of expression. His trumpet studies eventually led him down the Danube from the Anton Bruckner Universität in Linz to the Universität für Musik und darstellende Kunst Wien, from where he graduated in specialized concert studies in 2015. In addition to his work with classical music and its technical possibilities, Zöchbauer earlier explored traditional music and its translation into the present. With his now internationally celebrated ensemble Federspiel, which has already played on the best-known concert stages throughout the world (Goldener Saal of the Musikverein Wien, the Berliner Philharmonie, the Elbphilharmonie Hamburg and many more), he digs down for roots and underlying soil.

In his first solo project, with which Zöchbauer now celebrates his debut in March 2019, his compositions open up to contemporary and electronic impulses as well the influences of sacred music. With the release of the album "Achad" and, no less importantly, his role as of 2018 as artistic director of the wellenklænge Lunz am See festival, the present is emerging ever more clearly as the focus of his creative activity. Zöchbauer's searching preoccupation with the music and its creative conditions unlocks spaces which project out from the moment into the temporal past and future in equal measure.

Koehne Quartett

Founded in 1987 by Joanna Lewis, the Koehne Quartett counts as one of the outstanding interpreters of contemporary music in Central Europe. The quartet's repertoire encompasses a wide musical range, from classical compositions for string quartets to works from the twentieth and twenty-first centuries. From the very beginning, the quartet has placed particular emphasis on working closely with the composers whose music they perform, with the aim of achieving the most authentic and vivid interpretations of their compositions possible.

What began with the works of Graeme Koehne – one of Australia's most renowned and multifaceted composers – has continued systematically ever since with Austrian contemporaries such as Friedrich Cerha, Kurt Schwertsik, Francis Burt, Thomas Pernes, Gerd Kühr, Thomas Larcher or Wolfgang Liebhart. The Koehne Quartet's working principle of breaking new musical ground together with the composer has been greatly influenced by taking part in masterclasses with the Alban Berg Quartett (Günter Pichler), the Amadeus Quartett and the Brodsky Quartet, Hatto Beyerle and György Kurtág.

In addition, the Koehne Quartett also works regularly with international jazz musicians such as Dave Liebman, Wayne Horvitz, Peter Herbert, Anthony Braxton, Georg Graewe, Max Nagl and Otto Lechner, as well as with world music artists such as Marcel Khalife, Marwan Abado and Dhafer Youssef.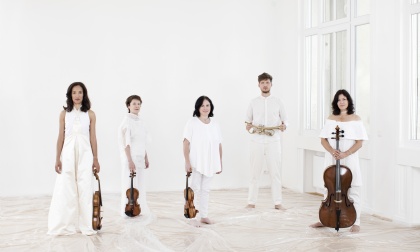 © Michèle Pauty

Trailer #1: Achad - Solo Debut Album - Simon Zöchbauer feat. Koehne Quartet
Instrumental
Ensemble
Contemporary
BRIGHT colors Edition


Recommendation
New music and groove – does it work and does it exist? Musical crossover artist Ketan Bhatti nods ... and delivers proof with his solo debut Nodding Terms

!


Jazz or Experimental? Or maybe New Music?
Move straight on, downstairs, take the 2nd door on left and you'll find out...


The composer Matthias Jakisic creates in "Fragmente" an original vision of what classical string quartets in the 21st century might sound like.