Editor's Note

This is the cellist and composer Lukas Lauermann's second solo recording. The artist is much in demand, especially wherever contemporary and experimental music are the order of the day… but the kind that doesn't send the average listener running for cover. This work, titled "I N", illustrates a very particular state: Someone does some soul-searching by looking INward – and in the same instance is receiving external INput. As the music navigates the 12 semitones of the traditional scale, accompanying sounds beyond the central cello rear their heads: tuning forks, synthesizer, and piano. Sometimes the sounds are being altered electronically. Sometimes they are being listened to through the cello, which turns the venerable string instrument into a soundboard for external musical sources. But it doesn't stop here: Lauermann takes binary codes and translates them into rhythm. He sees his own musical ideas as seeds that germinate, combine, become an organism, rewire… and which can be approached from any end or at any intermediate point. He looks for perfection in the microscopic. And best of all: Even if you know all of that… you won't be able to hear it! You can simply let yourself sink INto it!

Lineup

All works performed and composed by Lukas Lauermann.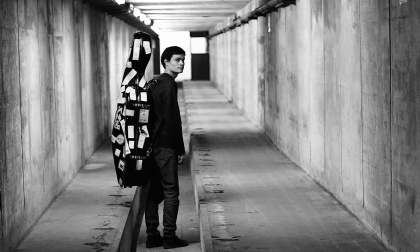 © Julia Haimburger
"I N does not start with the first work.
The end is at the beginning.
The music on this album began with listening on my part
…and it ends with you dippINg your ears into it."
Lukas Lauermann

About

Open-mindedness and a passion for experimentation are the distinguishing feature of Lukas Lauermann's (*1985) approaches to a great variety of projects. Whether in the studio or on stage, whether as a cellist and composer: he is unfailingly open to – and employs – unconventional methods. He collaborates with local Viennese artists such as Soap&Skin, Donauwellenreiter, André Heller, Der Nino aus Wien, Alicia Edelweiss, Saint Genet, Gelitin, the Hamburg-based rock band Tocotronic and many more.

All these artistic and personal experiences mingle with his classical training picked up at the University of Music and Performing Arts, Vienna, and the Anton Bruckner University in Linz – and come together in this solo project. His last musical undertaking, "How I Remember Now I Remember How" (also available on col legno, 2017), has brought Lukas Lauermann opportunities to perform in numerous European countries as well as the US, China, India, and Palestine.
1CD
BRIGHT colors Edition
Instrumental
Contemporary


Recommendation
Sferraina create an enchanting sound space, where music from past eras continually overlaps and interacts with the present. Highly recommended!


The composer Matthias Jakisic creates in "Fragmente" an original vision of what classical string quartets in the 21st century might sound like.



[...] contains pop music of stunning grandeur, and of moving simplicity. Sincerely recommended!