Editor's Note
Music as meta-memory: In 2015, when he was the artist-in-residence at Warsaw's POLIN Museum, the internationally renowned percussionist and composer Lukas Ligeti created a unique document in words and sounds that is being presented on this album. The history of Polish Jews, which is the POLIN museum's mission to transport and convey, led Lukas Ligeti to contemplate his own (Hungarian-) Jewish background. He conducted numerous interviews with people between the ages of 20 and 98 to talk to them about Jewish life in Warsaw. All interview partners were also asked to sing songs. By way of a precise musical notation, these memories were fed to musicians via headphones in the form of speech, rhythm, and melodies. Those, in turn, were asked to respond intuitively to what they heard and continue the conversation by their, musical means. The result is a touching composition situated somewhere between performance art and concert.

Lineup
Barbara Kinga Majewska, soprano
Paweł Szamburski, clarinet
Patryk Zakrocki, violin, viola, mbira
Mikołaj Pałosz, cello
Wojtek Kurek, drums, synthesizer
Lukas Ligeti, electronics, marimba lumina

First Listener's Note
By Piotr Cichocki

Although Lukas Ligeti never lived behind the Iron Curtain, his family story is akin to Polish biographies. A majority of his parents' and grandparents' generation perished in death camps after Hungarians and Germans had implemented their murderous plan to exterminate Hungarian Jews in 1944.

The notion that the awareness of ethnic roots and the identity they help to develop is a condition necessary for human existence is obviously questionable; we should not consider ethnic identification as a necessity faced by individuals. But the experience of a family history being discontinued because of the Holocaust and, later on, the homogenizing social and historical policy of socialist states or migration must have created a field of shared experience for Lukas Ligeti and his interlocutors. It is hardly accidental that, as it seems, narrations of identity constitute the starting and final points for the composer, the audience and the voices telling stories. Yet among them, speech becomes a pretext for abstract sequences of sounds.

Although the relation between the participants in the event developed through abstract musical activities, improvising and listening to sounds, in which meaning was replaced with sound and rhythm, the impression that communication was the pivot and the means in the creation of Ligeti's piece remains. The communication in question is one that is mediated by technology, the language of music that allows artists to cooperate, but also one that travels through time and space – to districts that have disappeared from rebuilt cities and memories of those who are no longer with us. [...]


Artist's Note
By Lukas Ligeti
[...] The performance I created in Warsaw, the aural component of which is documented on this CD, was informed by several conceptual ideas. First, to me, cultural heritage is ultimately a question of individuals and their associations, connections, communications, memories, ideas, hopes, and plans. Culture is a dynamic network of shared ideas, ideals, and experiences, constituted by each individual's relationship to those ideas, ideals, and experiences. Second, several of my works, going all the way back to my 1993 chamber orchestra piece
Groove Magic
, employ headphones to relay information – rhythmic, harmonic, spoken word, etc. – to the musicians. Third, in more recent years, I have become increasingly interested in combinations of composition and sound art, integrating spatial aspects and audience participation into my works without reducing my attention to compositional details.
That Which Has Remained ... That Which Will Emerge ...
is a meditation on aural memory and freely-associative ideas inspired by these memories, and the way culture defies destruction in the face of oppression and genocide. [...]
[The result is] a complex lattice of melodies, texts, stories, and dreamscapes, and the voices of Henryk Prajs and others who unearthed their memories to direct our ears to that which has remained and that which will emerge.

About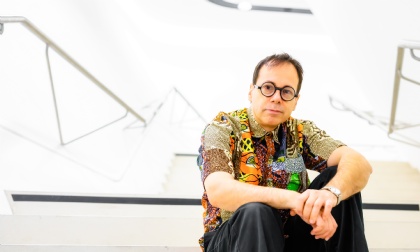 © Markus Sepperer
Lukas Ligeti is a composer and improvisor whose original, innovative musical language draws from the European classical tradition, jazz, New York's "Downtown" experimental music, and various African music traditions. Born in Vienna, Austria, he studied composition at Vienna's University for Music and Performing Arts and holds a PhD from the University of the Witwatersrand in Johannesburg, South Africa. He lived in New York City from 1998 until 2015, when he joined the faculty of the University of California, Irvine.

The recipient of the prestigious CalArts Alpert Award in Music, his compositions have been commissioned by Bang on a Can, Kronos Quartet, Eighth Blackbird, Ensemble Modern, the American Composers Orchestra, MDR Orchestra (Leipzig), the Vienna Festwochen, Ars Musica (Brussels), Goethe Institute, and choreographer Karole Armitage.

As a drummer, he has worked with John Zorn, Marilyn Crispell, John Tchicai, Michael Manring, Elliott Sharp, Gary Lucas, etc., and leads or co-leads several bands such as Hypercolor and Notebook. He has given solo electronic percussion concerts on five continents, performing on the Marimba Lumina, an instrument designed by Donald Buchla.

Engaged in collaborations with musicians in Africa for more than 25 years, he co-founded the ensemble Beta Foly in Côte d'Ivoire and now co-leads Burkina Electric, the first electronica band from Burkina Faso. He has also collaborated on/led projects in Egypt, Ghana, Uganda, Kenya, Zimbabwe, Mozambique, Lesotho, etc.
1CD
PRIME colors Edition
Contemporary


Recommendation
Sound elements from the oral cavity meet musical instruments. An outstanding and terrific debut!


"Its eyes are wide open, its mouth is agape, and its wings are stretched out. The angel of history must look like this. It has turned its face toward the past…"


The master of the prepared piano tackles small musical forms with his accustomed originality in his Sonatas and Interludes.