Surface events - Hèctor Parra by Markus Böggemann
by Markus Böggemann

Composition involves moulding time as it elapses in an aesthetically pleasing way. But if we are to perceive time as something we can form and modify, and if time passing can become a unique aesthetic experience, then it has to materialize first, it has to be given a body and volume. In Hèctor Parra's music this manifestation occurs with technical innovation and structural consistency. At the same time the acoustic phenomenon alludes in various ways to the composer's affinity for the visual arts: Karst – Chroma II (2006) for large orchestra begins with a dense homogenous sound which is broken down in the course of the piece, it is washed out, in a similar way to the geological formation mentioned in the title. It is replaced by succession of rhythmically and acoustically dissociated episodes, which, formally quite additive, explore extremes of instrumental expressiveness.

The idea behind this "géomorphologie acoustique" is genuinely plastic: to work away at the musical material like at a stone, to chisel out the surprising, individually formed details from an opaque foundation – this principle informs Hèctor Parra's music even when it does not explicitly follow a geological or sculptural metaphor. His chamber symphony No. 3 Sirrt die Sekunde, first performed in 2009, is based on a poem by Paul Celan and presents the relationship between the immediacy of a resonant surface and an epiphany which breaks through that surface. The development of the piece is based on temporal differentiation not only of the individual voices but also of the instrumental timbres to which they are subject. Sound, understood as a complex category encompassing several parameters, is more than clothing for an abstract composition, it is in itself polymorphous and subject to fluctuation. Such an exponentiated polyphony of the tone colour is typical for the formal and dramaturgical aspects of Hèctor Parra's possibly most ambitious project to date, the chamber opera Hypermusic Prologue (2009) for two singers, eight instrumentalists and electronics to a libretto by the physicist Lisa Randall. The composer's approach to the various levels of the plot, and the action in a multidimensional "time-space" reflect, it is true, current models of theoretical physics; but quite apart from this, something takes place here, and in Hèctor Parra's music in general, that is constitutive for art: it lets us experience the sensory richness of the transient present.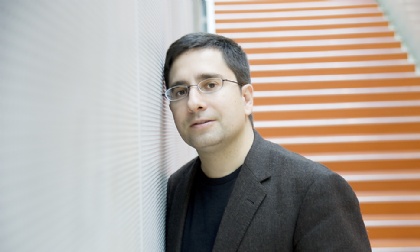 Photo: Manu Theobald © Ernst von Siemens Musikstiftung

Early Life (2010)
for oboe, piano and string trio
commissoned by the Ernst von Siemens Music Foundation
ensemble recherche: Jaime González (oboe), Melise Mellinger (violin), Barbara Maurer (viola), Åsa Åkerberg (cello), Klaus Steffes-Holländer (piano)

Stress Tensor (2009)
for flute, clarinet, piano and string trio
commissioned by Ensemble Contrechamps
New version commissioned by the City Council of Munich for the
Münchener Biennale
ensemble recherche: Martin Fahlenbock (flute), Shizuyo Oka (clarinet), Melise Mellinger (violin), Barbara Maurer (viola), Åsa Åkerberg (cello), Klaus Steffes-Holländer (piano)

Caressant l'Horizon (2011)
for large ensemble
commissioned by Mécénat Musical Société Générale
Ensemble intercontemporain, conductor: Emilio Pomárico
1CD
Instrumental
Contemporary
Ernst von Siemens Musikstiftung


Recommendation
Zeynep Gedzlioglu's music is an emphatic plea for the value of heterogeneous and individual difference.


A tamer and a charmer of tones, a ringmaster and a magician!


Hans Thomalla's opera Fremd adapts one of hte great myths of Worldliterature: Medea; still challenging, still compelling.