Remembrance and polyphony
by Markus Böggemann

According to Theodor W. Adorno it was Robert Schumann who discovered the gesture by which music looks to the past and recalls something long forgotten. In his works, contemporary art, for the first time, attained par excellence a past perspective; it was no longer pure emphatic present, bound merely to the moment of its sounding, but reflected its specific temporality, evoking its own transitoriness by referring to the past.

This self-referentiality has been identified as a feature of modernity, and it is precisely here, in the intellectual potentialities of un-trivialised romanticism, that we find one of the main reasons why Ulrich Alexander Kreppein's compositions are so fascinating. His music is in search of abstraction, multi-perspectivism and that which undermines itself. It speaks with various voices and, intermittently, from various historical distances. In the first of the three Phantasiestücke, a string trio with the title Windinnres (taken from one of Rilke's late poetic drafts), we repeatedly hear a viola cantilena of bird-like inconstancy, which at its last occurrence, before multiplying itself and encroaching on the whole ensemble, shines through from behind the microtonally blurred, but nevertheless quite tonal band of sound of the outer voices. The previously established hierarchy of centre and margin, foreground and background is reversed, turned inside out, the 'old' tone, emerging as if from the depth of remembrance, forms a layer over the presence of the eloquent line.

It is consistent with this aesthetic option that unambiguous teleological processes, restrictive concepts of material and the universal integration of motives and forms are not Kreppein's thing. He is more interested in plurality in an emphatic sense, he favours non-linear processes and a polyphony of sound and communicative forms that fears the disparate – in the sense of a 'higher' polyphony – less than the loss of the poetic. Part of this polyphony is the emphatic reference to literary motives and texts – the titles of the works attest to this with their affinity to twilight, night and shade. But the compositions themselves cast a net of linguistic and motivic references, too: in the orchestral sketch Schattenspiele (2008) – it draws on ideas used in chamber music form in the third of the Phantasiestücke, "Abendlied" – whispered text fragments from a poem by Georg Heym are buried in the sound texture and have themselves become sound; the second of the Phantasiestücke, "Nachtschattenwirbel", harbours quotes from Hans Henny Jahnn's Die Nacht aus Blei in its foundation and at the same time integrates the sound of indistinct radio voices. The objective of such strategies is, however, not profundity, but rather the production of presence; Ulrich Alexander Kreppein's music seeks in the multiplicity of its communicative levels an emphatic approach to the world by means of an eloquence which is re-established with every work.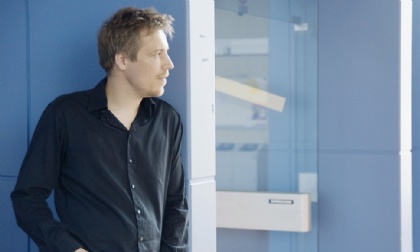 Photo: Manu Theobald © Ernst von Siemens Musikstiftung



2. Streichquartett: The Danish String Quartet
Phantasiestücke & Départ: Ensemble Modern, Frank Ollu
Spiel der Schatten: Münchner Rundfunkorchester, Matthias Pintscher



1CD
Instrumental
Ensemble
Instrumental
String Quartet
Orchestral
Contemporary


Recommendation
In the echo chambers of tradition. Ernst von Siemens composer's award winner David Pilip Hefti.


Hans Thomalla's opera Fremd adapts one of hte great myths of Worldliterature: Medea; still challenging, still compelling.


Steven Daverson's compositions allude to the
intangible: fluid forms that might be experienceable, but never enduring concrete...