"An Alpine Symphony" is like a movie soundtrack that needs no visual accompaniment. We, the listeners, create our own images to illustrate the tale of the conquest of a mountain. The view down into the valley is a suitable allegory for the contemplation of a musical world from which society was gradually beginning to drift away by the early 20th century: Richard Strauss requires a huge orchestral apparatus (more than 100 musicians) and is not afraid to use grand gestures. He takes on the part of a translator of the traditional and the avant-garde. The Orchestra of the Tyrolean Festival Erl and Gustav Kuhn have adopted a similar role. The way this music still moves us today is simply fascinating.

performed by the Orchestra of the Tyrolean Festival Erl
conducted by Gustav Kuhn

text by Bodo Hell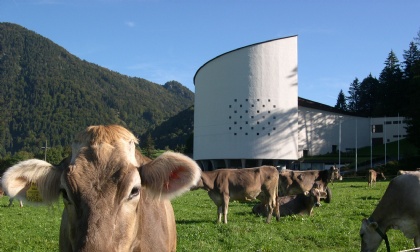 Photo by Peter Kitzbichler
1CD
Classics
Tiroler Festspiele Erl


Recommendation
Even before he became Arnold Schönberg's student, Alban Berg wrote some 40 Jugendlieder, 'early lieder': Romantic poetry as mirrored by the Fin de Siècle.


Franz Winter's reading of Die Meistersinger von Nürnberg, live from the Tyrolean Festival Erl, makes for an enthralling and thoroughly entertaining audio experience.


"Only one face": Following their price-winnig recording Schubertlieder, the Tyrolean Musicbanda Franui have now taken up Johannes Brahms' German Folk Songs.