Editor's Note
"Alles wieder gut" is the ultimate Liederabend with Florian Boesch – one of the most sought-after Lieder-interpreters of our time – and Musicbanda Franui, the iconic ten-piece, three-decade old band from the wilderness of East Tyrol. Famous and lesser known romantic songs from Schubert, Schumann, Mahler et al. are taken apart and re-assembled. The melodies remain the same, but the garb in which they re-appear is brand new: Harp, dulcimer, zither, double bass, accordion and a whole flock of brass and wind instruments swoop down on these songs. And, go figure, the hundred plus years old songs about love and loss touch us profoundly and have truths to tell us.

Lineup

Johannes Eder, clarinet, bass clarinet
Andreas Fuetsch, tuba
Romed Hopfgartner, soprano & alto saxophone, clarinet
Markus Kraler, double bass, accordion
Angelika Rainer, harp, zither, vocals
Bettina Rainer, dulcimer, vocals
Markus Rainer, trumpet, vocals
Andreas Schett, trumpet, vocals
Martin Senfter, valve trombone, vocals
Nikolai Tunkowitsch, violin

Florian Boesch, baritone



First Listener's Note

By Christian Seiler



The classical art song is in a difficult position. It leads a museum-like existence. It does appear regularly in concert halls, when a new singer wants to offer his or her interpretation of "A Winter Journey" or "Songs of a Wayfarer" to the world, but it suffers from a lack of fresh air. [... But] Franui have, for example, made Schubert their own in such a way that I start up with surprise when I hear one of these deeply intimate melodies, interpreted by Franui with all the persuasive power of intelligibility, played in its original form. [...]

Are Franui always subtle in their interpretations? No, thank goodness. Do they take venture to understand Schubert better than anyone else? Yes, of course. And why? Because they are right to do so. [...In addition,] Florian Boesch is a singer who commands his register – bass-baritone – so well that he had no other option than to become a global star.

[... Together,] they treat the lieder they have selected with respect, or rather with contemporary naturalness, not with that polite distance in the face of traditional clichés which has become the norm.




Artist's Note

By Andreas Schett



Over the course of the 27 years that we, the members of Franui, have been making music, we've managed to hop from one cow pie to the next. It all began with playing dirges and funeral marches in the small East Tyrolean village of Innervillgraten, which is home to more or less all of us. [...]

We would tell the audience that the famous singer that was to have performed with us couldn't find the entrance to the valley and never arrived. So we had to do it all ourselves. That's how we titled our concerts, too: "

Liederabend

for Musicbanda and a missing singer". [...]

And now the singer has arrived. He's found his way to us, after all! His name is Florian Boesch. [...] We are united in our lust for the liberty to really

live

the songs of Schubert, Schumann, Brahms, Mahler (and all those that might still come our way) – and do so as we see fit: Which is to say to send them through the wringer; channel them through our brains, hearts, lungs and even our tummy ... and see what comes out at the other, metaphorical end. [...]

The songs of Schubert, Schumann, Brahms and Mahler now form a kind of hybrid song cycle. The romantic journey of living and suffering that THE – I very nearly wrote "OUR" – singer endures, is a journey that moves us still today. Joseph von Eichendorff captured it inimitably in just two lines: "We yearn for home / and yet know not whereto?"




About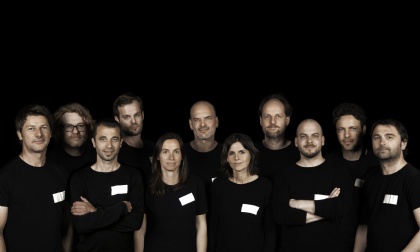 © Julia Stix
Franui
Franui is the name of a mountain pasture close to the small village of Innervillgraten, located at 1,402 metres above sea level in East Tyrol in Austria, where most of the Franui musicians grew up. The word is of Rhaeto-Romanic origin and refers to the proximity of Innervillgraten to the Ladin-speaking region in the Dolomite Alps.

The Musicbanda of the same name have been playing together in nearly the same lineup since 1993 and are frequently invited to perform at major festivals and venues, e. g. Konzerthaus Vienna, Burgtheater Vienna, Salzburg Festival, Bregenz Festival, Tyrolean Festspiele Erl, Ruhrtriennale, Holland Festival, Klara Festival Brussels, State Opera Unter den Linden Berlin, Munich Opera Festival, Philharmonie Cologne, Elbphilharmonie Hamburg, Ludwigsburger Schlossfestspiele, Schauspielhaus Zurich, Philharmonie Luxembourg or Philharmonie de Paris, to name a few.

Their adaptations of lieder by Schubert, Schumann, Brahms and Mahler have earned Franui renown beyond the Austrian borders. The ensemble regard themselves as a "transformer station between classical music, folk music, jazz and contemporary chamber music;" sometimes the original is lovingly celebrated in all its beauty, at others it is turned rightside up (or upside down), stripped down to its bare bones, enhanced, painted over, elaborated, in a process that blurs the boundaries between interpretation and improvisation, between arrangement and (re)composition.
For their live shows and music theater productions Franui frequently collaborate with other exceptional performers, including baritone Florian Boesch, writer Hans Magnus Enzensberger, puppeteer Nikolaus Habjan, Viennese song-duo "Die Strottern", mask theater ensemble "Familie Flöz", Bavarian Radio Chorus, filmmaker Alexander Kluge, video artist Jonas Dahlberg or actors Dörte Lyssewski, Sven-Eric Bechtolf and Peter Simonischek.
Since 2015 Franui have been in charge of programming the festival "Gemischter Satz" hosted by Konzerthaus Vienna each year in May, which presents new forms of interaction between music, art, literature and wine.
Franui's albums are released on the label col legno and have won several prizes. In 2018 "Ständchen der Dinge," the album celebrating the ensemble's 25th anniversary, won the German Record Critics' Award.
Florian Boesch

Austrian baritone Florian Boesch is considered one of today's foremost Lieder interpreters with appearances at Wigmore Hall, Musikverein and Konzerthaus Vienna, Het Concertgebouw Amsterdam, Laeiszhalle Hamburg, Philharmonie Cologne, Edinburgh and Schwetzingen Festival, Maifestspiele Wiesbaden, the Salzburg Festival, the Konzerthaus in Dortmund, Philharmonie Luxemburg as well as throughout the USA (Carnegie Hall) and Canada. Accompanied by Malcolm Martineau, he performed all three Schubert cycles in Glasgow and in Australia (Sydney, Adelaide, Melbourne). Florian Boesch was an artist in residence at Wigmore Hall (2014/2015 season) and at Konzerthaus in Vienna (2016/2017 season).

As a frequent guest on the concert platform Florian Boesch has worked with leading orchestras and conductors such as Vienna Philharmonic Orchestra and Berliner Philharmoniker, Royal Concertgebouw Orkest Amsterdam, Bavarian Radio Symphony Orchestra, Orchestre Philharmonique de Radio France, Gewandhausorchester Leipzig, Staatskapelle Dresden, London Symphony Orchestra, Danish National Symphony Orchestra, Mozarteumorchester Salzburg, Bamberger Symphoniker, and Ivor Bolton, Riccardo Chailly, Gustavo Dudamel, Adam Fischer, Iván Fischer, Valery Gergiev, Stefan Gottfried, Philippe Herreweghe, Pablo Heras-Casado, Mariss Jansons, Sir Roger Norrington, Sir Simon Rattle, Robin Ticciati and Franz Welser-Möst.


He worked very closely with Nikolaus Harnoncourt, with whom he did Händel's Messiah and Saul at the Wiener Musikverein and Purcell's The Fairy Queen at the 2014 styriarte festival. Further joint projects included Haydn's The Creation and The Seasons at the 2013 Salzburg Festival, or The Creation in Japan.

His recordings have been celebrated by the international press and received numerous awards, including an Edison Klassiek Award in 2012. Die schöne Müllerin was nominated for a 2015 Grammy in the category Best Classical Vocal Solo. In early September 2017, Hyperion released a new recording of Schubert's Winterreise with Roger Vignoles at the piano; in the autumn of 2018 this was followed by a recording of orchestrated Schubert songs with Concentus Musicus Vienna under the baton of Stefan Gottfried. Boesch's recordings of Schumann and Mahler songs won a BBC Music Magazine Award.

Florian Boesch received his initial vocal trainings from KS Ruthilde Boesch and later studied Lied and oratorio with KS Robert Holl in Vienna.
1CD
Vocal
Lied
PRIME colors Edition
Classics


Recommendation
Franui transfer the essential spirit of Schubert to the 21st century: "Music to make your knees weaken," praised the Berliner Zeitung.


Guess who's back with a brand new record in order to celebrate their 25th anniversary! Right, Franui again: "Is it going to last?"


Franui & Bechtolf, Brahms & Horváth! Highly recommended.