Catch-Pop String-Strong - CPSS
The ability to build new forms from miscellaneous components, using wit and virtuosity as mortar, is a remarkable skill, a skill which Jelena Popržan and Rina Kaçinari have honed to perfection: one is a Serbian, the other a Kosovo Albanian, and together the play Bach, traditional music from the Balkans or the Scottish highlands, pop songs, as well as own compositions resounding with a multitude of different influences, and beautifully so. Equipped with a cello, a viola, their voices and as much respect as necessary they build bridges between different cultures, across centuries and musical traditions, and they do it all with a light-footedness and natural ease that is simply amazing.


Credits
Jelena Popržan, viola, voice
Rina Kaçinari, cello, voice

with a text by Julya Rabinowich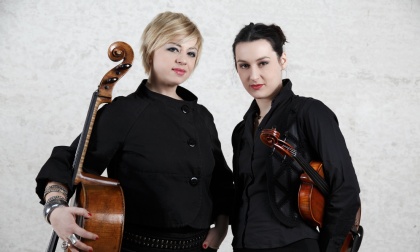 Photo: copyright Maria Frodl

Catch-Pop String-Strong - Karussell
Music: Rina Kaçinari (Cello & Composition), Jelena Popržan (Viola)

Video: Manuel Lehner, Johannes Hochmayer, Lukas Drexler, Raphael Szavai

www.catchpopstringstrong.com
1CD
World
PRIME colors Edition


Recommendation
Guess who's back: Alma are happy to show around again presenting their brand new and highly anticipated 3rd Longplayer Oeo! Summer 2017 is occupied from now on!


Sferraina create an enchanting sound space, where music from past eras continually overlaps and interacts with the present. Highly recommended!


Knoedel are back – without umlaut, but with drums! And a very special mix between contemporary and traditional, exceptional and ordinary.