Catch-Pop String-Strong - CPSS
The ability to build new forms from miscellaneous components, using wit and virtuosity as mortar, is a remarkable skill, a skill which Jelena Popržan and Rina Kaçinari have honed to perfection: one is a Serbian, the other a Kosovo Albanian, and together the play Bach, traditional music from the Balkans or the Scottish highlands, pop songs, as well as own compositions resounding with a multitude of different influences, and beautifully so. Equipped with a cello, a viola, their voices and as much respect as necessary they build bridges between different cultures, across centuries and musical traditions, and they do it all with a light-footedness and natural ease that is simply amazing.


Credits
Jelena Popržan, viola, voice
Rina Kaçinari, cello, voice

with a text by Julya Rabinowich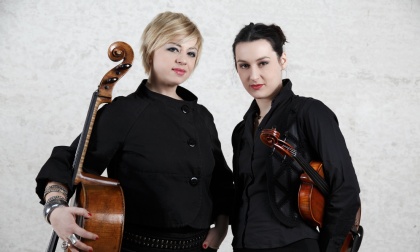 Photo: copyright Maria Frodl

Catch-Pop String-Strong - Karussell
Music: Rina Kaçinari (Cello & Composition), Jelena Popržan (Viola)

Video: Manuel Lehner, Johannes Hochmayer, Lukas Drexler, Raphael Szavai

www.catchpopstringstrong.com


Recommendation
"Volksmusik" – folk music at its best: pure and genuine – collected by Herma Haselsteiner, compiled by maestro Gustav Kuhn


Guess who's back: Alma are happy to show around again presenting their brand new and highly anticipated 3rd Longplayer Oeo! Summer 2017 is occupied from now on!


Dance music from high-alpine regions and from the low plains, music located somewhere between Schubert, Bartok and a Young Farmers'Ball in East Tyrol.