Catch-Pop String-Strong - CPSS
The ability to build new forms from miscellaneous components, using wit and virtuosity as mortar, is a remarkable skill, a skill which Jelena Popržan and Rina Kaçinari have honed to perfection: one is a Serbian, the other a Kosovo Albanian, and together the play Bach, traditional music from the Balkans or the Scottish highlands, pop songs, as well as own compositions resounding with a multitude of different influences, and beautifully so. Equipped with a cello, a viola, their voices and as much respect as necessary they build bridges between different cultures, across centuries and musical traditions, and they do it all with a light-footedness and natural ease that is simply amazing.


Credits
Jelena Popržan, viola, voice
Rina Kaçinari, cello, voice

with a text by Julya Rabinowich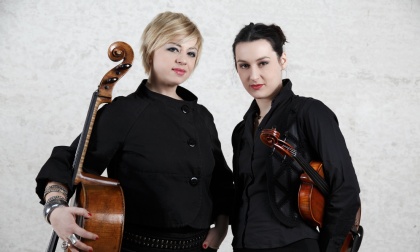 Photo: copyright Maria Frodl

Catch-Pop String-Strong - Karussell
Music: Rina Kaçinari (Cello & Composition), Jelena Popržan (Viola)

Video: Manuel Lehner, Johannes Hochmayer, Lukas Drexler, Raphael Szavai

www.catchpopstringstrong.com
1CD
World
PRIME colors Edition


Recommendation
The Mahlerlieder album concludes Musicbanda Franui's inspiring trilogy about the art of the Lied in the 19th century.


The music of Tyrolean composer Werner Pirchner performed by AkkoSax: a glimpse into the »Austrian soul«, engineered with amazing lightness and instrumental virtuosity.


A magnificent second album of this highly acclaimed female duo: Jelena Popržan and Rina Kaçinari!