»And Spring will come / and Winter will go …«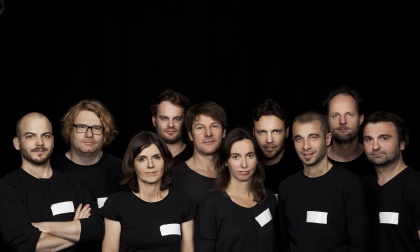 This album features dance music from high-alpine regions and from the low plains, music located somewhere between Schubert, Bartok and a Young Farmers'Ball in East Tyrol, encompassing all musical epochs and styles. The Musicbanda Franui as a dance band? Aren't the ten musicians from the tiny Austrian village of Innervillgraten, located 1,402 meters above sea level in East Tyrol, notorious for playing mainly funeral marches? Aren't they renowned for their alpine adaptations of lieder by Schubert, Brahms and Mahler? The funeral march and the polka are two faces of one and the same coin, is what Franui teach us; the cemetery and the dancefloor are closely linked. Traditional folk music instruments (hammered dulcimer, harp, zither), woodwind and brass, string instruments (violin, double bass) and voices are not only suitable tools for transforming Romantic lieder: You can also use them to play at funerals, and to conquer the dancefloor.

For the record...
All music written and / or arranged by Markus Kraler / Andreas Schett (AKM)

Musicians:
Johannes Eder, clarinet, bass clarinet
Andreas Fuetsch, tuba
Romed Hopfgartner, soprano & alto saxophone, clarinet
Markus Kraler, double bass, accordion
Angelika Rainer, harp, zither
Bettina Rainer, dulcimer
Markus Rainer, trumpet, voice
Andreas Schett, trumpet, voice
Martin Senfter, valve trombone, voice
Nikolai Tunkowitsch, violin

Comissioned by Salzburg Mozarteum Foundation.

Coproduced with Elbphilharmonie Hamburg, Kölner Philharmonie, KunstFestSpiele Hannover, Ludwigsburger Schlossfestspiele, Klangspuren Schwaz.
1CD
Instrumental
Ensemble
World
Special
Contemporary
PRIME colors Edition


Recommendation
Schubert–Brahms–Mahler: Franui's magical lieder triangle has now finally been assembled in a box.


The Mahlerlieder album concludes Musicbanda Franui's inspiring trilogy about the art of the Lied in the 19th century.


Franui transfer the essential spirit of Schubert to the 21st century: "Music to make your knees weaken," praised the Berliner Zeitung.