For the Love of It
Wolfgang Puschnig is one who has returned from faraway musical realms, and whose compositions take us into the borderlands: The instrumentation including flutes, violin, saxophone, double bass and voices bridges the gap between folk music and jazz, creating a strong tension between traditionalism and musical freethinking. The fact that he entwines the music with lyrics from the region Carinthia / Slovenia – located in two different states, yet with a shared cultural background – may be interpreted as a deliberate statement. Bernarda Fink, the celebrated Argentine mezzo-soprano with Slovenian roots, sings what might be termed transregional folk songs, partly in Slovenian, partly in German. Some of the music might double as the soundtrack to movie scenes set in a big city, while at other times it conjures up images of rich green pastures that might feature in a rural tearjerker ... For the Love of It communicates the sense of an emotional connection that many people, irrespective of education or local patriotism, are capable of understanding but that can be truly expressed only through music.

Recorded live at Wiener Konzerthaus, Großer Saal.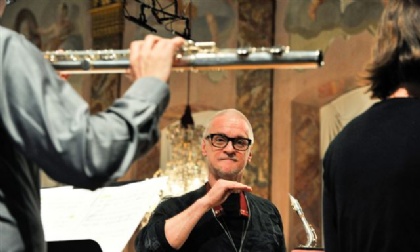 Credits
Mark Feldman, violin
Bernarda Fink, mezzo-soprano
Wolfgang Puschnig, alto saxophone
Mike Richmond, double bass
schnittpunktvokal, voices
Vienna Flautists, flutes

Vienna Flautists: Maria Augustin (soloist), Annegret Bauerle, Barbara Gisler, Petra Haitchi, Regina Maderthaner, Fereshteh Rahbari, Werner Tomasi, Edina Vami-May, Walter Wretschitsch

schnittpunktvokal:
Peter Paumgarten, Christian Paumgarten, Michael Paumgarten, Ulfried Staber

All music composed by Wolfgang Puschnig except tracks 03 & 07 by Günther Mittergradnegger. Lyrics by Gerhard Glawischnig (track 03, 07), Wolfgang Puschnig (track 02); tracks 01, 04, 05: traditionals.
1CD
Instrumental
Ensemble
Vocal
Jazz
World
PRIME colors Edition

Songs from the iconic musician Joni Mitchell, re-invented in a chamber music like environment, carefully arranged by Peter Herbert. Unique!


The cult band from Vienna demonstrate a disregard of musical boundaries to delight the ears of their listeners. A truly colorful col legno highlight of 2012!


The music of Tyrolean composer Werner Pirchner performed by AkkoSax: a glimpse into the »Austrian soul«, engineered with amazing lightness and instrumental virtuosity.