Gordon Kampe: Arien/Zitronen

Arien/Zitronen (2016)


for solo voice and ensemble
Ensemble Musikfabrik, soprano: Sarah Maria Sun
conducted by Christian Eggen



1. Ein Lied
2. Operette
3. Wurmwerk
4. Sachlicher Bericht

knapp (2016)


for contra bass clarinet, baritone saxophone, trombone and violoncello
Ensemble I.C.E.Q.


5. knapp
6. Training / Drone
7. Ein Lied
8. Tanzen
9. Nerven
10. fast nicht mehr



Drei Stücke für Orchester (2015)

Stuttgart Radio Symphony Orchestra,
conducted by Titus Engel

11. Les Adieux

12. Atutu

13. zackig /derb/King-Kong

Zwerge (2011)


für großes Ensemble

Ensemble Musikfabrik, Leitung: Johannes Fischer

Le cœur de la Grenoüille (2014)


for 28-part choir in 3 groups

SWR Vokalensemble, ex-semble (rehearsals Christoph Haßler), conducted by Marcus Creed

15. I. Nachts / Dach: Deckards Probleme

16. II. Scherzo (Aufschneiden)

17. III. Lullaby

Moritaten und Sentimentales (2015)


for trumpet, trombone, percussion, e-guitar, cello, piano Ensemble ascolta

Gordon Kampe's Musical World-Visions
The American literary scholar Harold Bloom de ned the word Ein ussangst (anxiety of in uence) as the fear of in uential traditions, or the weight of tradition pressing down on artists' shoulders. In doing so, he developed the image of an artist who is so intimidated by the work of his predecessors that he is barely able to express his own thoughts. The only realistic alternative, he said, was the 'liquidation of resistance': a form of symbolic patricide. While Bloom applied this to literature, it can also be applied to other areas of art – (new) music in particular could be seen as a progression of such acts where patriarchs have often been declared for dead such that the birth of their descendants is all the more effective.
Gordon Kampe, however, need not metaphorically repudiate his forebear- ers in order to write his music. 'The driving power of my music forms a positi- ve in uence in my case', says Kampe. Indeed, his uninhibitedly delivered in u- ences are heterogeneous and often stem from 'the sphere of leftovers and runner-up ideas'. They are formed of 'things – sounds or tones – which have already existed, but are worth hearing again and being investigated for the present.' The provenance of such material is disparate: from the classic-romantic musical tradition, to literary or lm sources as well as from those areas often labelled 'popular', which commonly represent a taboo for those of a sentimental aesthetic.
Gordon Kampe doesn't lay value on deliberately spiritual music which gains its 'transcendence' from the incorporation of elements of high-culture, or by attempting to infect the listener through an arti cial sense of re nement.
His music is quite the opposite: direct, forthright and carefree. Titles such as Schmackes, Butter und Fische (Oomph, Butter and Fish) or Gassenhauermaschinensuite (Suite of the Popular-Melody Machine) give just as good an in- sight into Kampe's avoidance of the pretentious as his performance directions, which include 'banging and cantankerous', 'ever heavier' or 'full of carrots'.
Though it may be tempting to suspect an element of provocation here, Kampe is no iconoclast. His compositional style doesn't follow an impulse to oppose any particular musical genre or movement – it is simply the result of an attentive, aesthetic sense of perception which articulates a wonderful inventiveness. This in turn allows Kampe to set the world to music.
The word 'world' here is meant in the sense of Ludwig Wittgenstein – referring to everything in existence including contradictions, discrepancies and absurdities. Nothing is excluded: the terms 'inadequate' or 'illegitimate' are foreign to Kampe's compositional methods. This forms the basis of his desire to grant aesthetic access to the everyday world around us. 'For me, composition is a game', says Kampe, 'using objects which – from a distance – don't seem to belong together. But in the process of composing, everything you can lay your hands on can be amalgamated – as long as it doesn't run away!' [...]

About: Gordon Kampe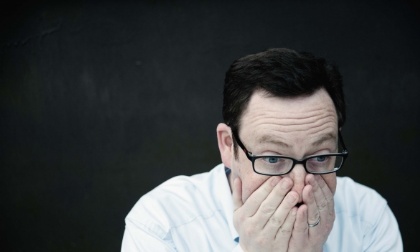 © Manu Theobald
Gordon Kampe was born in 1976 in the German town of Herne where he initially completed training as an electrician. After gaining his "Abitur" and completing his civilian service he studied composition from 1998 to 2000 at the Rostock University of Music and Drama under Hans-Joachim Hespos and Adriana Hölszky. From 2000 to 2003 he continued studies under Nicolaus A. Huber at the Folkwang University in Essen. He also studied music and history at the Ruhr University in Bochum. Gordon Kampe completed his Doctorate in Musicology specializing in the fairy tale operas of the 20th century. Since 2009 he has been research assistant at the Folkwang University of the Arts in Essen working towards a post-doctoral project in the eld of instrumentation and performance practice in the 19th and 20th centuries. Kampe is co-editor of the journal Seiltanz – Beiträge zur Musik der Gegenwart and since 2012 has been elected member of the "Junge Akademie" at the Berlin Brandenburg Academy of Sciences/National Academy of Sciences Leopoldina.
Among other things Gordon Kampe received a scholarship for the Cité Internationale des Arts in Paris in 2007. He was invited to a residency at Künst- lerhof Schreyahn in 2008. He also received a grant for the Experimentalstudio of SWR broadcasting in 2014. Gordon Kampe has won numerous prizes inclu- ding the 2003 Folkwang Prize and the composition prize of the regional capital of Stuttgart (2007 and 2011), the Schneider-Schott Music Price and the Rome Price for a residency at Villa Massimo in 2017/2018. Since Autumn 2017 he has been professor of composition/music theatre at the Hamburg University of Music and Drama.
The ensembles, festivals and performers Gordon Kampe has worked with include: eclat-Festival Stuttgart, Wittener Tage für neue Kammermusik, Warsaw Autumn, Musica Nova Helsinki, hr Symphony Orchestra, ensemble recherche, Neue Vocalsolisten, LUX:NM, decoder ensemble, Staatstheater Oldenburg and Mainz, Deutsche Oper Berlin, Bavarian State Opera and many more.
www.gordonkampe.de

Portrait: Gordon Kampe

A film by Johannes List.
1CD
Ernst von Siemens Musikstiftung
Contemporary


Recommendation
To stump a listener: the Music of Birke J. Bertelsmeier.


It seems that Djordjević's imagination is focussed entirely on an interior world, on the interplay of forces within a de ned space.


Strive for the greatest integration, exclude all vagaries and obfuscations.