Birke J. Bertelsmeier: folklich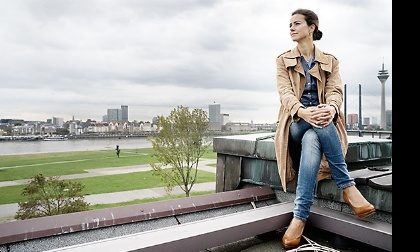 to stump a listener
A simple melody, well-formed and self-contained, is to be played "with utter calm and exquisite tone" – and yet something seems to be amiss. An ensemble for new music – but it plays standing up, like an early music group. A simple, incessantly repeated rhythmic model – but its regularity always threatens to lose its balance. Confounding moments such as these are ubiquitous in music of Birke J. Bertelsmeier; indeed, she positively seeks them out: they reveal the composer's fascination with controlled imperfection and calculated approximation. Thus in zu-neigend for solo trumpet, written as a test piece for the 2015 Felix Mendelssohn Bartholdy Conservatory competition, she calls upon the player to transpose alternatively up or down a half step. What would in any other circumstances constitute a catastrophe here becomes precisely the compositional objective of an otherwise simple melody. And in folklich (2012), a piece that not only alludes to folk music in its title, the musicians are up on their feet, so that they can bring across their soloistic presence and the musical energy of the piece to the listeners. The fact that they also happen to use their feet to bring forth noises specified in the score is a further source of bemusement.

Cheerful subversion ("contentedly" is a frequent performance instruction in her scores!), a predilection for character and characterization, and a sense of double entendre which can already be read into the titles of the pieces – all these are hallmarks of Birke Bertelsmeier's output. But not for their own sake: her calculated disorientations are indeed intended to stump the listeners, make them pay attention, and notice the unexpected. But these are not didacticisms; rather, they are artistic decisions. That is, they can be judged on their ability to offer opportunities for compositional differentiation. New horizons open up precisely there, where things seem to get derailed, where matters stop running smoothly: mistakes, says Birke Bertelsmeier, are a different form of freedom. Departing from a given context – be it a of a temporal or a harmonic nature – can reveal alternative spaces and sonic perspectives, and ultimately promises an additional soupçon of vitality. What that might mean concretely can be seen in the most recent works: the piano pieces Amorette I and II, commissioned by the Bavarian Academy of Fine Arts. The instrumentation of two pianos, eight hands, suggests something percussive and motoric, and indeed the second of these is riven with forward momentum and kinetic energy. But when at first the second pianist and then the others gradually depart from the common tempo and, "independently of the barline" (so the score indicates), get slower or faster, then the mechanical innards of the piece become ungainly, and the buoyant Amorette transforms into a chubby kid with wings. It's certainly a witty moment, but it also has a special kinetic quality, characterized by tempo fluctuation, phrasing, and agogic rhythm passed from one player to the next. This way of passing energy around lies, in a broader sense, at the heart of Birke J. Bertelsmeier's creative output: the listener is invited to partake of the energy that shines forth from her compositions.

Text: Markus Böggemann

folklich
GIROMANiACO (2013/2015)
for Ensemble
Ensemble Modern, conducted by Jonathan Stockhammer

hineidunke (2012)
for String Quartet and Glasses
Armida Quartett: Martin Funda, Johanna Staemmler (Violin), Teresa Schwamm (Viola), Peter-Philipp Staemmler (Cello); Birke J. Bertelsmeier (Glasses)

Quartettstück (2008)
for String Quartet
Armida Quartett

folklich (2012)
for Ensemble
Ensemble Modern, conducted by Jonathan Stockhammer

WhirliGigue (2012)
for Flute solo
Ivanna Ternay

Amorette I und II (2014/2015)
for four Pianists on two Pianos
Birke J. Bertelsmeier, Lukas Maria Kuen, Julian Riem, Paul Rivinius

Zimzum (2015)
for Symphony Orchestra
Bamberg Symphony, conducted by Christoph Eschenbach
1CD
Ernst von Siemens Musikstiftung


Recommendation
Focussing and magnification, concentration and expansion – these [...] diametrically opposed dynamics [...] characteristically pervade Luke Bedford's music.


For me, composition is a game', says Kampe, 'using objects which – from a distance – don't seem to belong together.


Zeynep Gedzlioglu's music is an emphatic plea for the value of heterogeneous and individual difference.